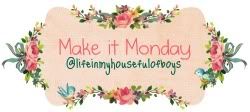 Hooray! Finally back to some Make-it Mondays! This post is in celebration of the completion of one of those "under the bed" projects...
I started these dresses almost exactly a year ago to sew for the Twinkles' birthday. Unfortunately, I forgot the oh-so-enviable fact that little girls often grow straight up without growing out for a couple years. Thus, the dresses fit them just lovely around the waist, but were rather on the short side for the "Sunday dresses" they had hoped to wear. Into a bag and under the bed they went, until such a time when I could (unemotionally) determine the fate of the ruffled hemlines.
At long last, a week or so ago, I pulled them out, cut up and ruffled several yards of eyelet, finished the hand-sewing, and voila! ruffly Sunday dresses! An unforeseen plus of using eyelet for the hem-extensions was the hoop-skirt-reminiscent "poof" at the bottom of the dresses - the eyelet was stiff enough to hold the lighter cotton out, which, of course, the girls loved!
In the course of taking the pictures to show the finished project, we switched over to just doing a twin photo shoot. At the end, Maddy said, "Oh, Sarah, we have to do the Head-Heart-Shadow Picture! We love to do it!" As far as I can tell, they came up with it on their own. Also, just so you know, it is "just for twins to do".
Precious, isn't it? What are you working on this Monday?