Happy Monday, everyone! I am sorry for my absence, but life has been...normal. And by normal, I do
not
mean slow, structured, or mundane, but insanely busy and full. Why do we even bother answering "busy" to the question "how's it going?" The answer is
always
"busy" - so really, we should just answer "normal", don't you think? Anyway, I'm back today, with two things for you: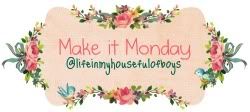 1. Linking up with Kirsteen from
Life in My Houseful of Boys
- I made a pillow! The actual pillow-case part is knitted, and then I made up a crocheted flower pattern (which I ended up falling in love with!) as an accent. Ta-dah:
Bonus: this was made entiredly out of the scraps yarn I was
telling you about
a few weeks ago. (So, for example, when I ran out of the brown right at the end of the pillow, I just supplemented it with some of the flower-colored yarn. :)
See? Adds personality. :p
2. Announcing the contest winner from my bloggy-birthday drawing!
To read Lauren's imaginative post, click
here
.
Have a sun-shiny week! :)